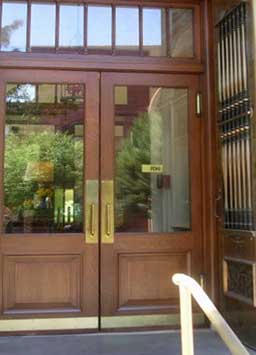 Does your facility make a good first impression? If your entrance doors, elevator doors, wood paneling, metal signs, or railings are showing their age, OFS Corporation can bring them back to life.
Wood and metal restoration jobs like these require on-site work, and OFS is the trusted provider of these services to corporations, professional offices, churches, theatres, and many other customers who recognize the importance of keeping their facilities looking their best. We carefully analyze each job to determine the most effective and efficient way to improve the appearance of your architectural wood and metal, and we provide detailed written estimates. OFS takes great care to avoid interrupting business operations while we do our work, often providing our services during off-hours. We are also happy to partner with facility management companies to help them provide high-level service to their clients.
These are just a few of the services we can provide in your facility:
– Wood –
Conference Table Refinishing
Wood Paneling Refinishing and Restoration
Architectural Millwork Detailing/Punch Lists
Architectural Millwork Color Blending and Toning
Office Millwork and Wood Furniture Refinishing
Office Millwork Touch-Up
– Metal –
Elevator Door Cleaning, Refinishing, and Maintenance
Scratch and Graffiti Removal
Escalator Metal Cleaning and Maintenance
Aluminum Cleaning and Coating
Bronze and Stainless Steel Plaque Polishing
Brass Fixture Cleaning and Maintenance
Schedule a free on-site analysis.