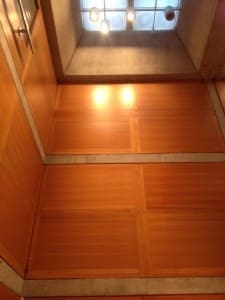 OFS onsite team does aerial refinishing, 50' off the ground! 
This year, spring will start off with the grand reopening of a historic, landmark building nestled in the heart of New Haven.
OFS is honored to have been a part of the second, third and fourth floor restoration for the Yale Center of British Arts.
All of the building's white oak trim came to the shop for cleaning, repair, recoating, and finishing.
Our South Windsor team fixed "holes" and scratches -damage resulting from years of heavy traffic and regular use – and applied new finish, restoring and matching color throughout the building's galleries.
Kudos as always to Whitehawk Construction and Turner Construction. OFS is proud to be part of a much larger undertaking that these renowned companies have coordinated and executed. As we write, new carpet and uphostry is being installed and the finishing touches are wrapping up. The art is being placed back on the walls!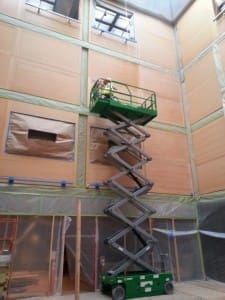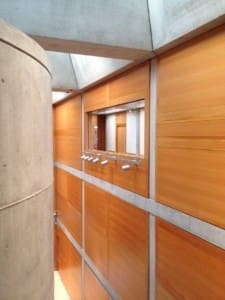 BRAVO!! to the OFS onsite restoration crew! Both the Library Court and the Entry Court are lined with floor to ceiling wood panels. Our guys rose to the challenge on 55' scissor lifts fully extendend!
This assignment was NOT for the faint of heart.
In 8 weeks, large oak wall panels had to be repaired, sprayed, color matched and refinished in place. Furthermore, the galleries' 60' glass skylight ceilings present and unforgiving "glare" that accents and highlights all blemishes, especially when looking up from ground level.
Once again, our guys delivered. Thank you Team!