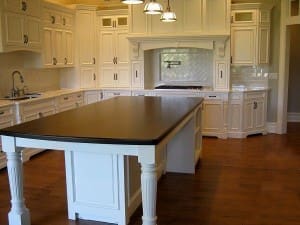 People often think of OFS only for corporate office space, however, large residential projects and luxury homes are also part of repertoire. We pride ourselves on achieving the highest quality finishing available in the Northeast.
For this newly renovated "Dream Kitchen" in Ellington, CT, the OFS Shop provided finishing services on all new woodwork, cabinets, wall paneling, trim, and kitchen island furniture.
This project came to us from Premier Woodworking of East Hartford, whose master cabinet makers are known for their professional quality workmanship.
OFS coordinates directly with general contractors, woodworking companies AND cabinet makers, to put the finishing touches on your masterpiece.