OFS onsite team cleans up the historic main entrance, inside and out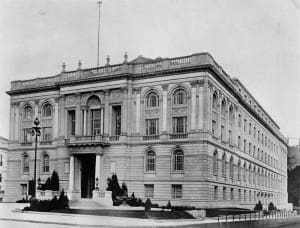 When Hartford's City Hall opened in 1915, this Beaux-Art Building replaced the Old State House as the seat of the City government – the third such site in the city's history. The site was selected and the cornerstone was laid in July of 1912.
It was designed by architects Brooks & Davis, with Palmer & Hornboste, and constructed of brick faced with Bethel white granite. It has a copper tile roof. All of the entrances are bronze. The three story central atrium is 25' wide by 150' long, and incorporates Corinthian columns and pilasters, balconies, balustrades, a glass roof that serves as a skylight, and is decorated with panels depicting scenes from Hartford's history.
Hartford's City Hall was dedicated over three days – November 4, 5, and 6, 1915. It was listed on the National Register of Historic Places in 1981.
Now, following almost 100 years of regular use, the building's grand entrance was badly in need of repair. Before and after pictures demonstrate the tarnished state of these majestic doors, which have seen so much of our local history pass by. Ornate brass detail, as well as kick plates and solid wood surfaces, had to be cleaned and refinished.
Another objective of the project was to get the doors to operate smoothly. Vulcan Security Technologies was responsible for mechanically repairing and restoring the entrance to function properly and to be secure. Vulcan is a South Windsor based firm that has over 30 years of experience in the commercial security market.
They succeeded in raising the level of functionality to "Night Doors" status whereby the structure is properly rated to deter break-ins and vandalism to the property.
Hats off to Vulcan for such stellar work.
Of course, the other goal of the project was to restore the entrance's "look" and prestige. The OFS Crew refinished all woodwork and polished the brass surfaces. We also applied black paint in areas to "distinguish" and highlight details, patterns and lettering.
Given the scope of work and intricate detail of the decor, we were on the job for 2 months. Both City Hall employees and visitors alike have commented on the new and improved appearance of this Classic Connecticut building.