OFS was just recently named to the school's list of professional service providers
In the past, OFS has completed work for New Haven's premiere Ivy League institution as a subcontractor on other approved vendor projects. We are excited to now be able to accept work assignments from all departments throughout the university wherever wood and metal restoration and refinishing is needed.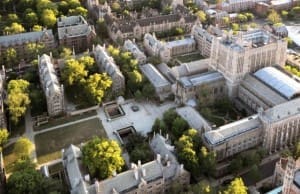 In other campus news…
The Yale Center for British Art renovation project has entered the early stages of Phase 2
As part of the Whitehawk Construction Services team, OFS has begun the initial tasks for detailed work on another floor of the famed gallery. Once again we are pleased to assist with refinishing existing furniture and woodwork, matching color and aesthetic for new surfaces so they fit in with existing décor, as well as providing high end metal restoration and cleaning work for the rooms' interior trim.