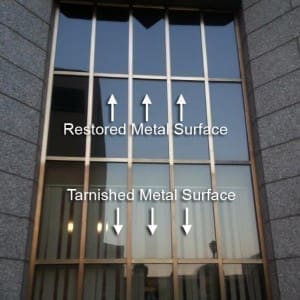 Exterior Architectural Bronze: Project completed on time, on budget and according to schedule
Two key components of the OFS suite of services include metal restoration services, to return your metal to as close to "new" condition as possible, and our routine scheduled maintenance programs, to keep metal surfaces looking great all the time.
In the example pictured in this quarter's Blog, OFS technicians worked well above ground floor level to strip, clean, polish and apply clear protective coatings to doors, frames and window mullions.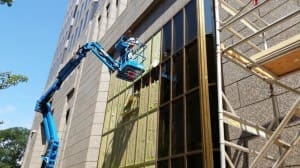 Scaffolding and lifts were used to reach the upper areas as we worked our way down. This is an example of a successful architectural metal restoration project in which all contract agreements were reached within the original budget. There was literally no disruption to tenants and clients of the building while we were on site.
From start to finish, the project took less than 9 weeks to complete.
Spring, summer and fall are all ideal for exterior work, but now that the winter season is upon us, we prefer to make the move inside. OFS can be available for interior metal restoration services to clean, maintain and restore brass, bronze, stainless steel, copper and aluminum.
Routine Maintenance Makes Sense
All metal surfaces can benefit from regular care. An OFS service plan is cost effective, and equates to smaller monthly bills rather than large, "unexpected" repair costs that hit the budget every few years.
OFS maintenance crews are courteous and professional. All of our field techs are OSHA 10 Certified. You can trust your building to our team.
And remember, our normal work shift hours start after 5-6 p.m., so our team never interferes with your team.