Court Rm. No. 3 at the Richard C. Lee U.S. Courthouse in New Haven gets a facelift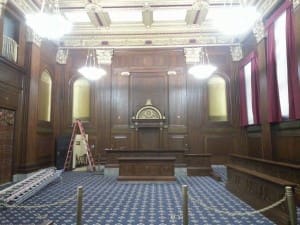 Taking great pride and care in our work has earned OFS a role in some rather significant, and even historic, projects over the years. This summer, we were pleased to have been included in the restoration of America's oldest operating courthouse.
Located on the east side of the New Haven Green, this monumental courthouse of the United States District Court for the District of Connecticut was built between 1913 and 1919. It is an example of Classical Revival architecture and was presented in a city planning document by two prominent architects of the time, Frederick Law Olmsted and Cass Gilbert. They advised that the style, materials and scale of the new building should respect the character of other architecture surrounding the Green.
One of the keynote speakers at the cornerstone dedication ceremony was Former President William Howard Taft, then a professor at Yale Law School. The text from that speech as well as other mementos, were placed in the cornerstone.
Up until 1979, the building served as both a courthouse and a U.S. Post Office. It was spared from demolition in the 1960s and underwent a $7.3 million restoration in the early 1980s. The building was renamed to honor Richard C. Lee in 1998. Lee was a former New Haven Mayor and was considered instrumental in the building's preservation and overall revitalization of the city.
OFS was invited to the project by City Enterprise, a successful contractor based in Springfield, MA. Their prestige and professionalism showed us why they deserve to be selected for GSA Contracts such as this.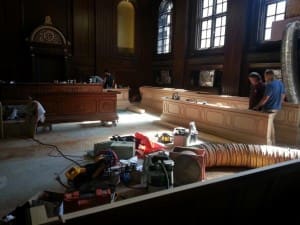 For our part, OFS was asked to focus on our main areas of expertise, namely interior woodworking restoration and metal surface restoration.
Courtroom No. 3 is an impressive and ornate setting, and we wanted to be sure to honor the original detail and stature it instills.
With existing woodwork that could be preserved, we needed to fill cracks, repair damaged joints and refinish the surfaces. OFS color specialists were able to blend repaired surfaces with existing wood color to create an original appearance.
The OFS Team custom finished new jury boxes and took special care to make sure new millwork would match the room's historic décor and color tone.
Wood panels adorning the courtroom's walls were restored, oiled, and rejuvenated to their original luster.
Speaking of luster and shine
OFS was also charged with the room's metal restoration needs. On the doors, we removed hand-marks, stains and scuffs from the brass push plates and kick plates.
Antique bronze convection grilles that had become oxidized and tarnished over the years were also cleaned, polished and coated. As we dug into the history books, we learned that every detail of the room would have been specially designed by architect James Gamble Rogers – right down to the pendant light fixtures and radiator grilles. We took extra pride in honoring his work in all of our preservation efforts.