OFS Corp. meets deadlines and specifications required by art gallery officials
After a full year of planning, submitting proposals and gaining approvals, OFS and a team of partnering vendors were poised to begin the restoration of Yale University's landmark art gallery. That was mid-July of 2013. By December, the OFS Onsite Crew was in New Haven working on touch ups and detailing while our shop in South Windsor was finishing the last phase of the project.
"Two key factors played a role in achieving our objectives on time and with complete customer satisfaction," said OFS President Al Hare. "The first was having a newly built facility available to maximize our production time. The second was top notch logistics and coordination by the leadership team at Whitehawk."
One of the big challenges was that the project required all work to retain the "look" and specifications set forth by the original architect Louis I. Kahn. Named one of "The World's 50 Greatest Galleries" by the Times of London, the YCBA opened to the public in 1977 and was the last building Kahn would design.
A responsibility to preserving the past
Nestled in the heart of downtown New Haven, the YCBA houses the largest and most comprehensive collection of British art outside of the United Kingdom. The variety of works include paintings, sculpture, prints, drawings, rare books and manuscripts dating back historically to the Elizabethan period.
Since the structure is such an elegant setting that serves both as a study center and art gallery, the OFS Team took measures to ensure our craftsmanship was worthy of such presentation.
We were fortunate to work with the quality professionals at Turner Construction and Whitehawk Construction Services. We cannot say enough good things about the work of these vendors.
Please enjoy some photos of the finished project.
Elsewhere in the New Haven-area
It is also worth mentioning recent work that was completed for Quinnipiac University at their North Haven Campus. The school's 325,000 square-foot Center for Medicine, Nursing and Health Sciences is designed to give future medical professionals the opportunity for hands-on experiences and collaborative learning.
The OFS expert maintenance crews were onsite to provide touch up and detail services for both wood and metal surfaces within the facility that had either faded or were showing blemishes from normal wear and tear.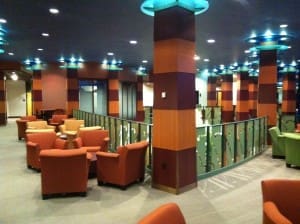 Our team also "detailed" and rejuvenated the building's metal window frames, which always proves to be a cost effective way to help restore an outside facade to its original beauty.
We are proud to serve the halls of higher education and the university officials were pleased with the results.