Repair project at historic site in Barkhamsted, CT turns OFS customer into "happy campers"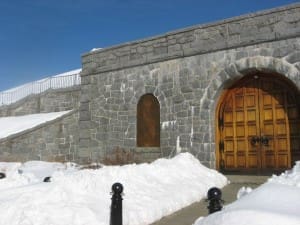 Amid the beautiful landscape, woods and hills of Northwest Connecticut stands the historic Saville Dam, which was completed in 1940 on the eastern branch of the Farmington River.
After years of exposure to the elements, both the commemorative plaques and large wooden gates welcoming visitors to the landmark site were badly in need of restoration.
The four large bronze plaques were restored onsite by OFS metal refinishing experts. We were able to bring these badly tarnished items back to new condition.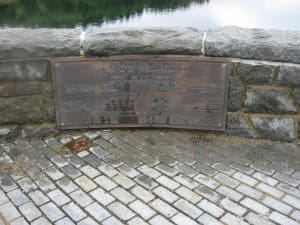 The large, 12 ft. gates, weighing in the neighborhood of 500 lbs. each, posed a little more of a challenge. But as project coordinator, OFS had a plan to deliver a beautifully refurbished entryway to this scenic spot.
Unlike the bronze plaques, the large wooden doors could not be restored on site. Due to their looming size and 3 inches of solid oak girth, they were not easy to carry. We contracted a rigging company to remove the gates from their hinges and safely transport them to our colleagues at Westek Architectural Woodworking in Westfield, MA.
Once in the shop, professional sandblasting was used to strip the surface. Open joints that had resulted from weathering were tightened up and rusted rods were replaced, to give the structures a complete rebuild.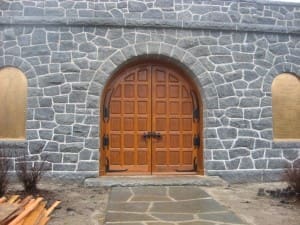 Final refinishing was completed by OFS Corp. – precisely matching the color and "look" requested by the customer. Since we are well versed in meeting corporate building standards by customers such as GE among others, OFS is a perfect candidate for meeting historical regulations and standards that are often cause for concern to town officials and historical societies embarking on a restoration project.
The Saville Dam project required that each phase of restoration be photographed and documented. OFS was able to comply and return all work order items to like-new condition. See for yourself in our before and after photos.